WINTER ACTIVITIES
Snow season invites you to try new experiences! There's nothing like a chilly winter day outdoors, and a cup of hot chocolate after. Do you prefer a calm snowshoe walk or more speedy downhill skiing?Check the best activity ideas for your winter holiday here.
Book your guided outdoor activities or ask for a group offer: sales@www.revontuli.fi
Guided tours should be booked 7 days in advance. The minimum group size for tours is 2 persons.
SNOWSHOEING
Snowshoeing is great exercise, and makes it possible to discover more places in wintertime. We arrange guided snowshoeing tours to nearby nature attractions, such as Konnevesi National Park or Hyypäänvuori Mountain. Or just rent the equipment, ask for the best tips from our staff and head to the nature on your own.
Guided snowshoeing tour:
2-3 hours: 75 € / person
including snowshoes, campfire sausages and drinks
Or just rent snowshoes:
15 € / 2 hour
30 € / day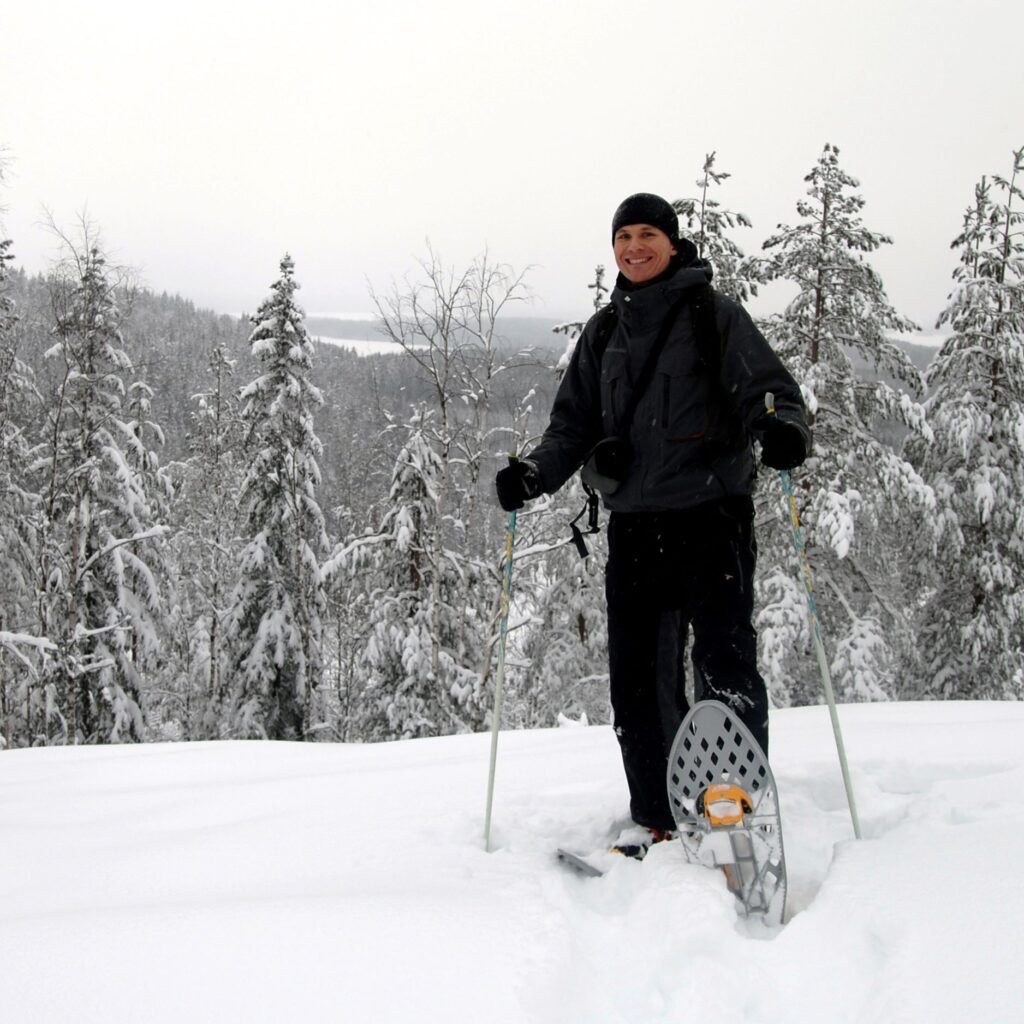 WINTER HIKING
Some of the hiking routes are possible also without snowshoes. Book a guide or explore the nature by yourself. Our staff will help you to choose the suitable route for you.
Guided hiking tour:
2-3 hours: 75 € / person
including campfire coffee / tea and sausages
See all the routes close to Revontuli Resort here.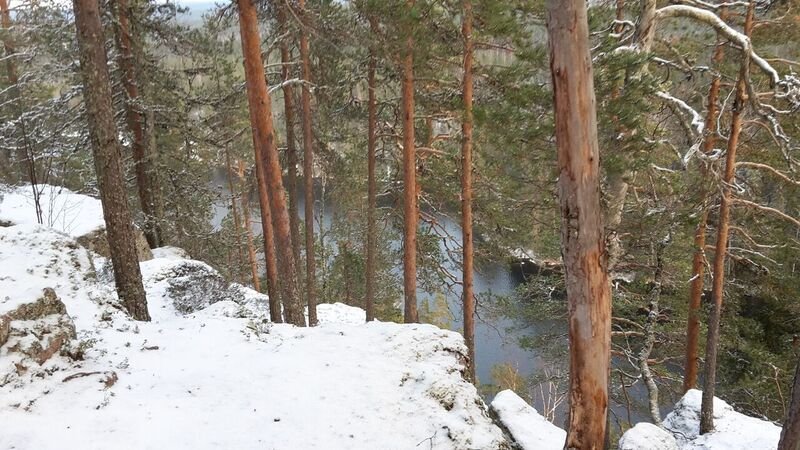 ICE FISHING
Try to catch the biggest fish of the lake Iso-Virmas. Drill the hole, put the red worm to the hook and let lure go down deep into the water. Wait until you feel something nibble the hook and then pull quickly….
If you got big fat perch, you ask our chef to make it dinner for you.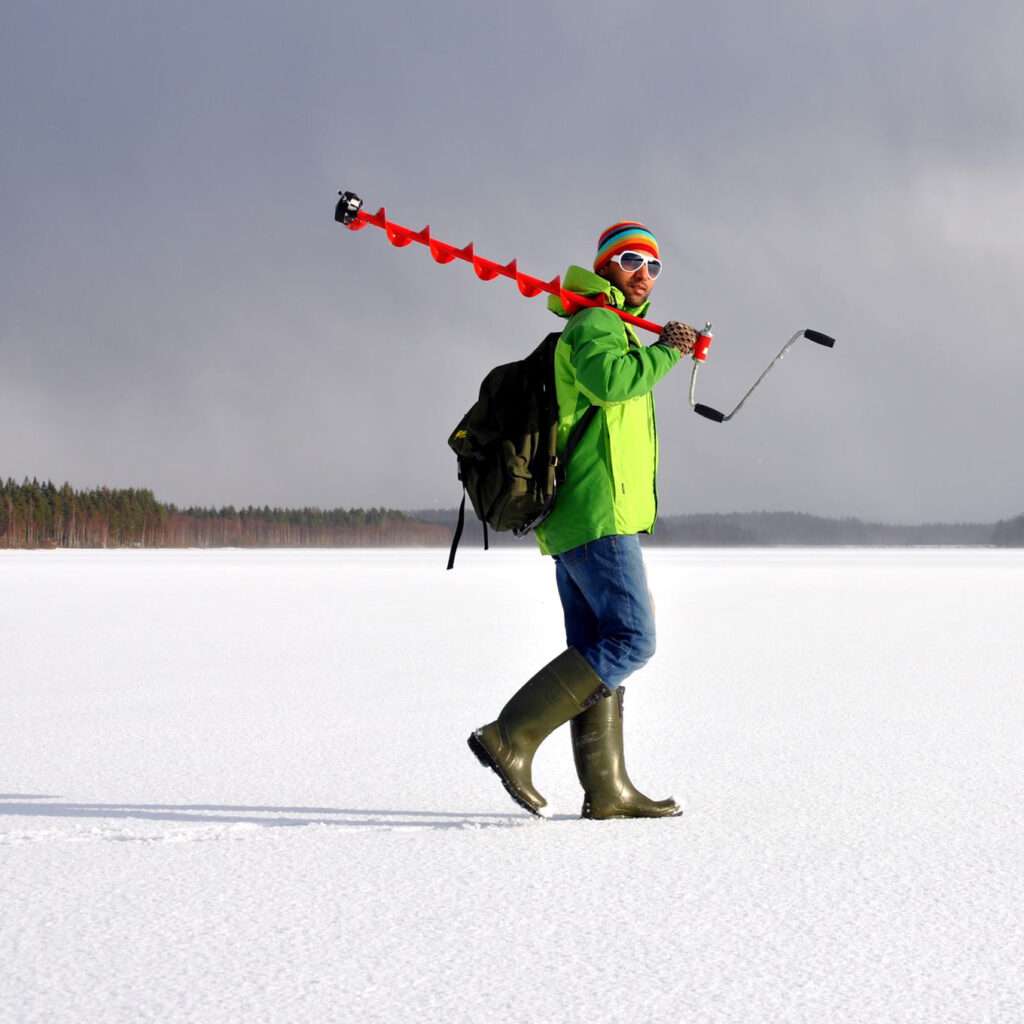 KICK SLEDGES
Outdoor recreation hobby for adults and kids. Try them on a packed trail of snow and ice. You can borrow them for free while you stay in Revontuli The Northern Lights Resort.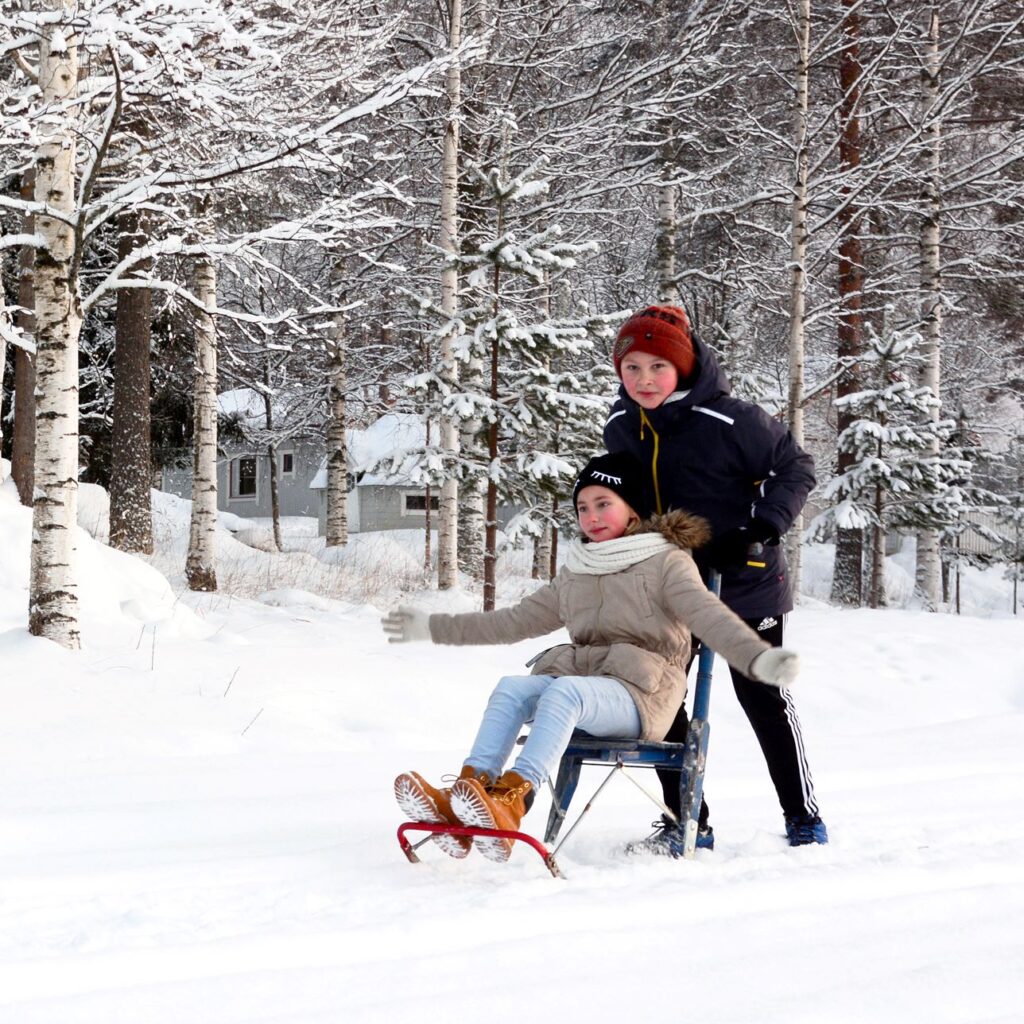 SKIING AND SNOWBOARDING
Ski Resort Häkärinteet is an excellent location to start skiing or snowboarding. Ski Resort is located only 6 km from Revontuli Resort. Their small, but feisty ski school gives you great foundation for skiing. You can get skiing introduction both individually or in a group.
Day ticket 38 € / adult, 30-34 € / child
Equipment rental separately.
See more info at Ski Resort Häkärinteet.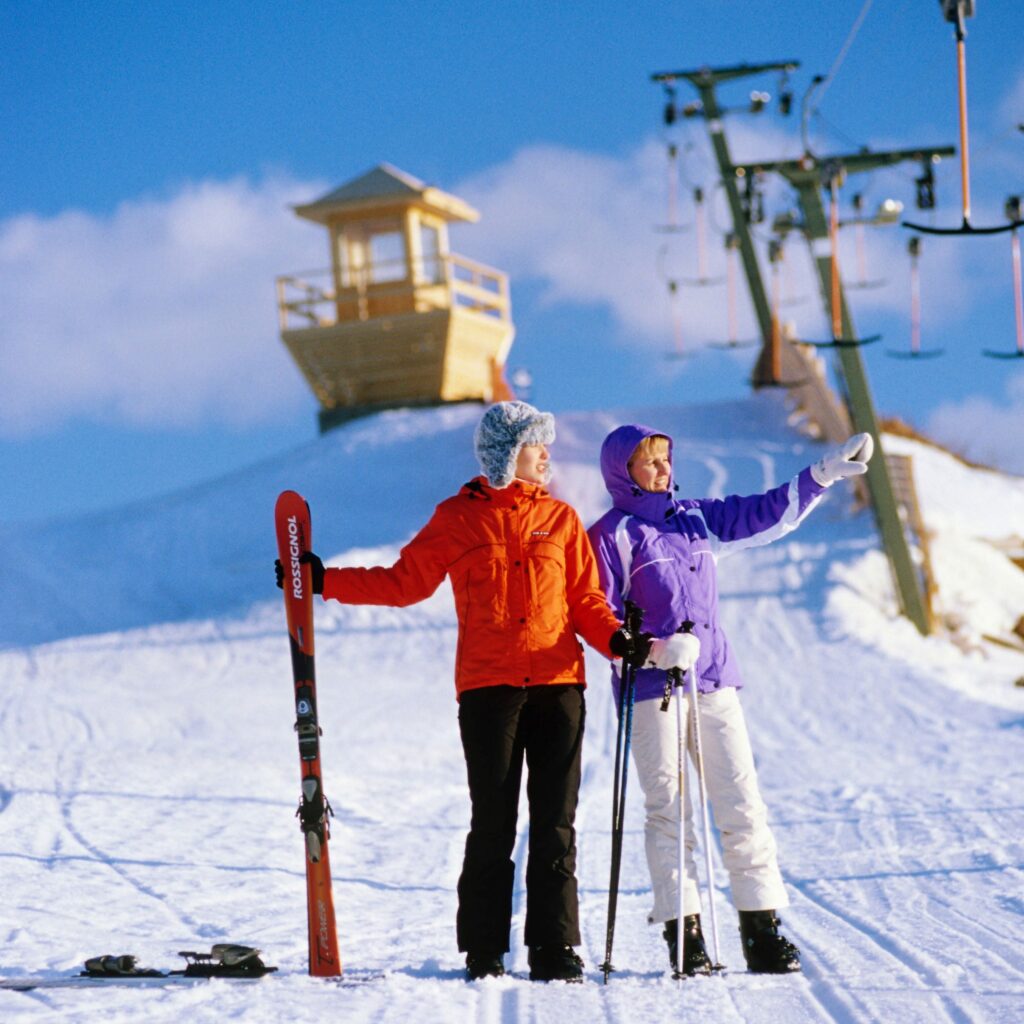 HORSE SLEIGH TRIP
Traditional winter fun is taking a horse ride on a sleigh. Finnish horse Ulla and driver Matti take you to the adventure. Matti's Horse Farm is located 8 km from Revontuli Resort.
Horse sleigh trip in the Horse farm
65 € / person
Horse sleigh trip in Revontuli (minimum group size 5 persons)
40 € / person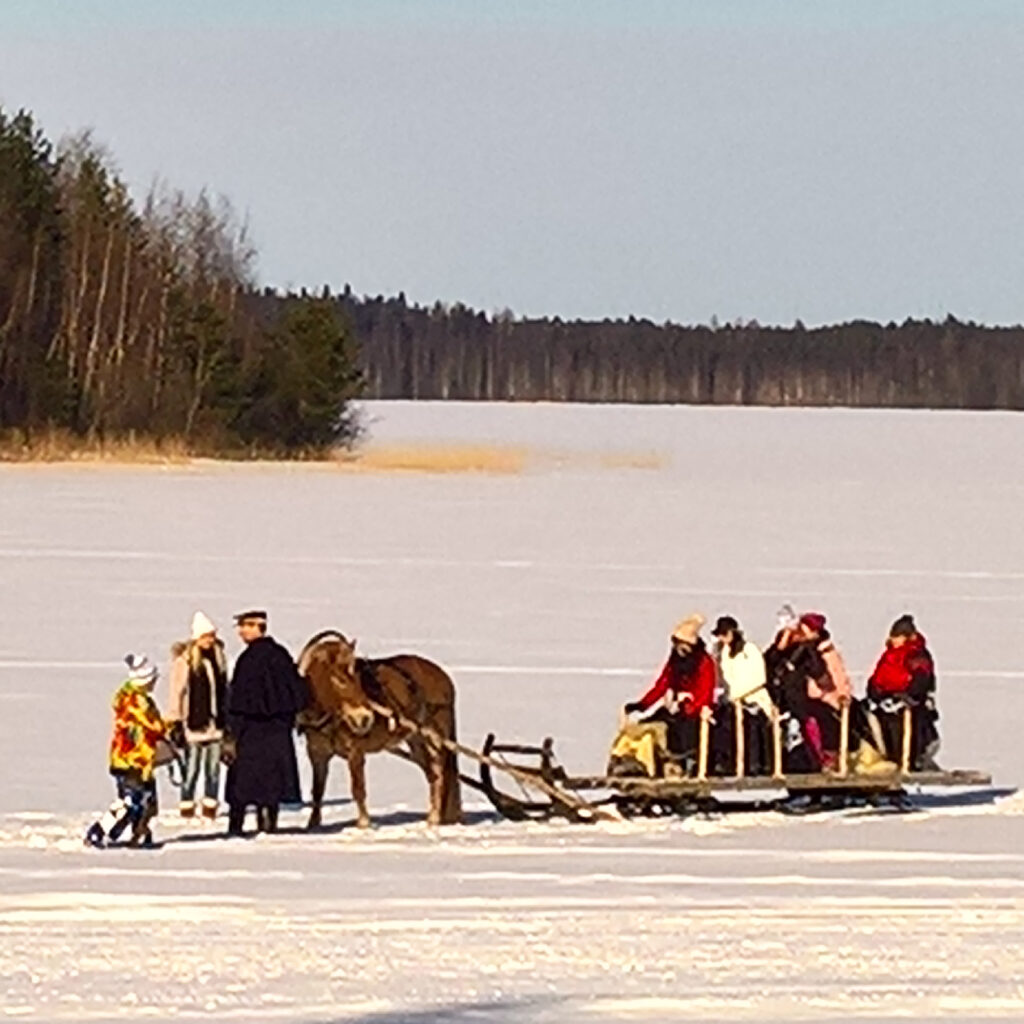 CROSS-COUNTRY SKIING
Cross-country skiing is a great way to explore the surrounding nature. There are two ski tracks starting from Revontuli: Karhunlenkki (7 km) and Revontuli Run (11 km). Guiding available.
Guided Skiing Tour
2-3 hours tour: 75 € / person
including equipment, campfire sausages and coffee / tea
Or just rent the Ski Set (Ski Resort Häkä):
8 € / 3 hours
10 € / day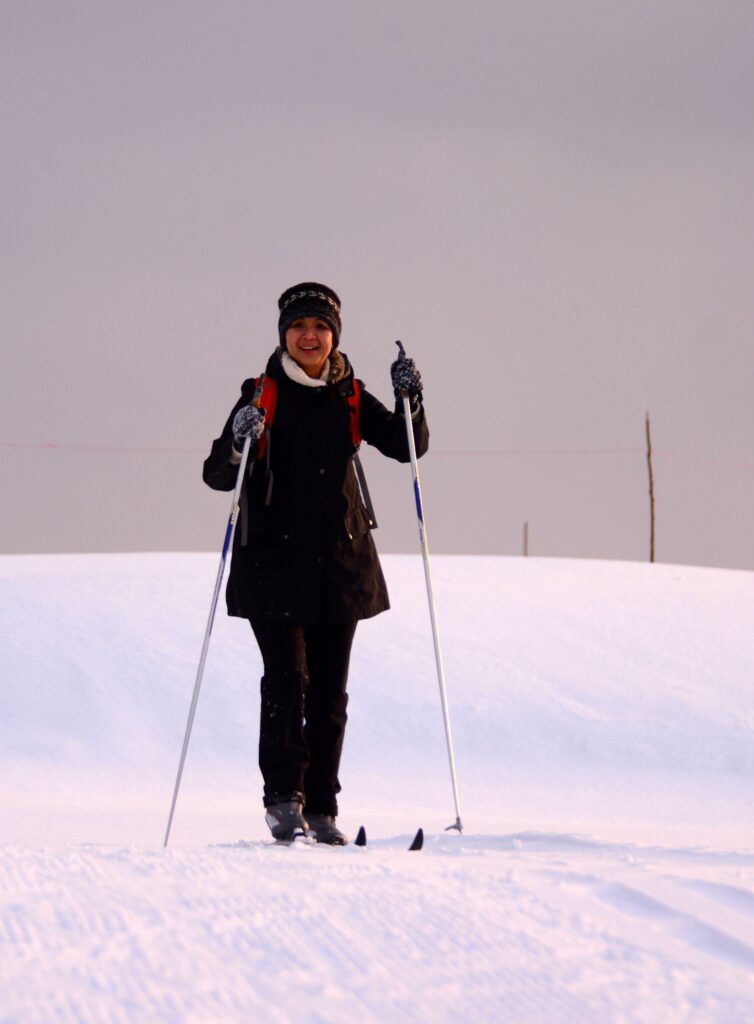 REVONTULI FATBIKE SAFARIS
Fatbikes are meant for challenging grounds, so they are perfect for driving on snow. Fatbike Safari is suitable for anyone with basic fitness level and ability to ride a bike. Enjoy the snowy view while cycling on the ice-covered lake, and have a relaxing break by the campfire.
Guided Fatbike Tour
2-3 hours: 812 € / group (max. 12 persons)
including equipment and guiding
Ask for a campfire meal!